Awareness Through Movement©
forms the basis of classes and workshops, and is a verbally guided exploration of a sequence of movements.
Each sequence will have a focus, of either a particular body part or movement theme. There are a virtually infinite number of such sequences. Most lessons take place laying on the floor, although some are taught in sitting or standing.

The experience is rather like solving a riddle - a physical riddle: movements are repeated many times, emphasis is placed on observing ones' sensations, feelings as one moves, on noticing the quality of each movement, with the intention of increasing smoothness, lightness, and effortlessness rather than speed or strength or quantity.

Learning to explore the world of internal sensation gently and respectfully creates an environment where long held patterns of tension and pain can dissolve and release.
What often then follows is an arising of a natural and healthy curiosity, which serves
to offer continued improvement - initially in mobility and subsequently in thinking and emotional levels.
Course and workshops are designed to provide the most effective somatic learning environment for students, our courses are structured to encourage and support a weekly committment and are priced accordingly.
Workshops
Are focused around a particular topic, and usually comprise a selected series of 'Awareness Through Movement' lessons which are chosen for their compatibility to work together to allow a more in-depth exploration and understanding. Generally we will be working individually, sometimes partner work and 'Functional Integration' may be used.
< back to Benefits
Privacy Policy
All personal information supplied on enquiring or booking with Lifeworks Somatics is held securely and is never shared with any third party without explicit consent. All personal records are held in a secure format.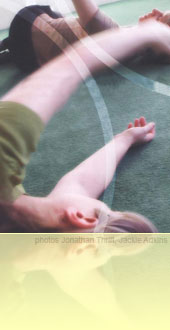 " The best thing about the workshops I do with you is feeling that my bones are related to my muscles and that I have a choice of how I use them!" Muriel
" I've been amazed that making such small movements can have such a dramatic effect. I have lost feelings of tension or imbalance and have increased my awareness of good posture. I am also questioning myself in everyday life, to see if I can carry out movements in a less effortful way." Sue K
"I carry a lot of tension in my lower back and often the area gets so tight that it feels as though the muscles have been knitted together, after one afternoon workshop on exercises to free the chest, I woke the next morning with no muscular tension in my back, when the tension started to return after three weeks, I simply repeated the exercises you taught me. You also helped me to be more aware of when I do tense up those muscles, so I can relax them. A fantastic result, thank you!". Jane S
After Nikhila's classes, I feel like I have a new body - it's great!" Colin